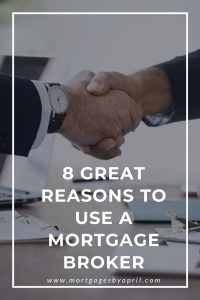 Good day!  Welcome to my site, and thank you for stopping by. For my first blog post, I wanted to take some time to tell you how it would benefit you to work with a mortgage professional. It really does have great advantages for homebuyers, homeowners, and those looking to get into real estate or investment properties.
So, without further ado, here are eight great reasons to use a mortgage broker:
It saves you time
Using a broker can save you a substantial amount of time. If you were to shop around to dozens of different lending institutions, make appointments, gather information, check rates, compare pros and cons…. it would take weeks! Wouldn't you rather be house shopping? As licensed representatives, we are able to work directly with a wide variety of lenders and can quickly narrow down options that will work for you. This is much more quick and convenient for you.
The banks compete for your business
Brokers have access to an extensive network of lenders in Canada (including major banks, credit unions, trust companies, other private sources). These lenders are always offering competitive rates and actually COMPETE for your business, unlike traditional bank branches. More options = more competition = better rates for you.
There is no cost to you
Did you know that it costs nothing to meet with a mortgage broker? That's right, you do not pay any fees to use our services. Brokers are instead paid a finder's fee. This is paid when we introduce a dependable client, such as yourself, to a lender for a mortgage loan. The focus remains on finding the best product for you, since these fees are standard across the industry.
We ensure you get the best rates and terms
Brokers shop around on your behalf to their network of lenders to find the right solution for you. This can mean better prepayment options, discounted rates, or other perks that the retail banks may not be able to offer.
You are provided with expert advice
Brokers have extensive training in the industry, and are always keeping up to date on changing rules and regulations. Our job is to make the mortgage process easier for you, explaining the details along the way and providing you with the best options to suit your needs. We are available to answer questions to give you peace of mind on this major financial decision.
We negotiate so you don't have to
Negotiating with your bank may leave you feeling uneasy or uncomfortable. We do this for you so you can be sure you are getting the most competitive rate and terms. You can rest easy knowing that we are using our current knowledge to strike the best deal for you that we can.
You may get special offers
When we find you a lender for your mortgage, they are eager to have you as a customer. They will often offer special offers and benefits to you, like rewards points programs, etc. as an added bonus that you may not otherwise receive from your bank. Who doesn't love extra perks?
Continued support
After your mortgage is signed, our service doesn't end there. Brokers are available to help with closing details and can refer other professionals if needed. We are also available to answer any questions you may have during your mortgage term.
I hope this has been informative and has helped you understand the benefits of a mortgage professional. If you have any questions or would like to know more about how I can help you, send me an email, and I'd be happy to chat!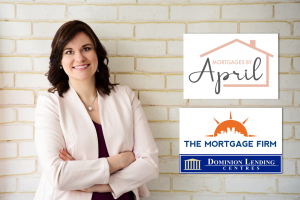 April Hopfner
Mortgage Associate
DominionLending Centres – The Mortgage Firm
ahopfner@dominionlending.ca
www.mortgagesbyapril.com